I had already put a list of must know RUN commands on my blog. And continuing my posts on Windows RUN Commands, I would like to share one more simple trick to create your own RUN commands.
Why would you actually need to create a RUN command of your own? Well, you might not want to have a shortcut placed on your desktop. Instead, you wish to have a RUN command for the same so that you can hit it in the RUN window and get your program launched.
Before I start with the steps, I would like you to know that it could a folder, document, program or any damn thing on your computer, whose shortcut you want to be used in RUN.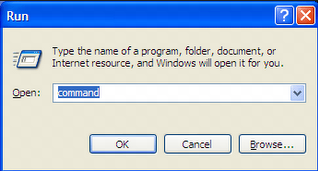 Follow the Steps Below:
1.Create a shortcut of the required program, folder, file and paste it somewhere on your computer
2.Open RUN utility and enter 'Windows' in the provided field
3.Now cut the created shortcut (in Step 1) and paste in Windows folder
4.Name the shortcut properly, because that would be your RUN command for launching that file / program
5.Open RUN and hit the command to see that its working fine and that is it
This is how you create your own RUN commands, and all this will not take more than a minute or so.
Source: http://pcsplace.com/