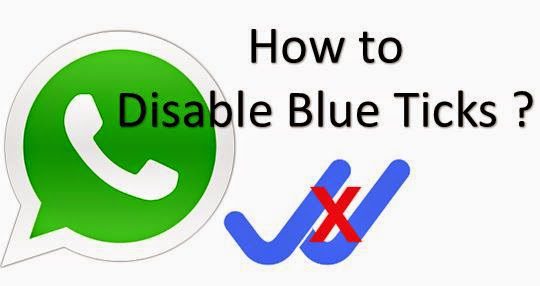 Many of you are well aware of whatsapp. If not, I think you don't own a smartphone.
A small Description from whatsapp in their words:
WhatsApp Messenger is a cross-platform mobile messaging app which allows you to exchange messages without having to pay for SMS. WhatsApp Messenger is available for iPhone, BlackBerry, Android, Windows Phone and Nokia and yes, those phones can all message each other! Because WhatsApp Messenger uses the same internet data plan that you use for email and web browsing, there is no cost to message and stay in touch with your friends.




In addition to basic messaging WhatsApp users can create groups, send each other unlimited images, video and audio media messages.



We can also access whatsapp through PC by using emulators or Whatsapple. (Refer
Here
for Whatsapple).
There is a recent update to whatsapp which shows blue tick marks when a receiver reads a message. Refer the screenshot.
This is considered good by some people and for others, it is not. According to me, this feature must be made an option in the whatsapp so that every person has the freedom to choose according to their interests.
It seems that whatsapp understood this common interest and updated the feature in their application. Since they are still doing some testing (or maybe, any other reason), they did not release this in play store yet. So, in order to enable/disable the Blue ticks, follow these steps,
1. Download the apk
here
. (if not working, please leave the message in the comments).
2. Install the apk. (No need to uninstall the older version of whatsapp. It gets automatically updated and the conversations are safe)
3. Open Settings and navigate to Account->Privacy and toggle Read Scripts.
These are some of the things you need to know -
Check marks will appear next to each message you send. Here is what each one indicates:
message successfully sent.
message successfully delivered to the recipient's phone.
the recipient has read your message.

In a group chat, the second check marks will appear when all participants in the group have received your message. The two blue check marks will appear when all participants in the group have read your message.

If you only see a single check mark next to your message, there is likely nothing wrong with WhatsApp or your phone. There may be several reasons why your message has been sent, but not delivered to your chat partner:


Their phone might be off.
They could be sleeping, especially if they live in a different time zone.
They might be experiencing network connection issues.
They might have seen the notification on their screen, but did not launch the app (especially common if the recipient uses an iPhone).
They might have blocked you.


If you turn off read receipts, you won't be able to see read receipts from other people. Irrespective of this, Read receipts are always sent for group chats.
Enjoy the Day Friends!